Make Your Home Comfortable
with a Zoned System
For thousands of homeowners in our area, central air conditioning is not an option for their home comfort needs without expensive or extensive renovations. This leaves them turning to less effective solutions for cooling – window fans or window A/C units.
Mini-splits or a zoned system provides an ideal alternative! These systems provide more precise comfort and healthier air in one room or your entire house – while saving on energy costs and being more energy-efficient.

Request an Estimate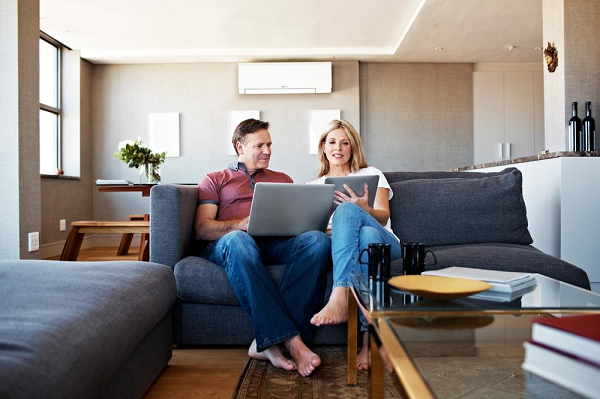 How Does a Zoned or Mini-Split System Work?
These ductless systems provide heating and cooling for homes built without ductwork. They are also the perfect solution for unheated or cooled spaces that are now being used for home offices, playrooms, virtual learning spaces or home gyms.
As a Mitsubishi Diamond Contractor, we provide Zoned Comfort Solutions® that bring unmatched energy efficiency, performance and control to home heating and cooling. These systems offer the flexibility to individually control up to 8 zones from one outdoor unit for comfort throughout your home or for a single defined space.
Benefits of Mini-Splits:
Improved air quality from advanced multi-stage filtration that captures and removes contaminants
Systems are up to 40% more efficient than conventional HVAC systems
Year-round comfort in any climate
Whisper quiet operation
Operate your system from anywhere in the world using your smartphone or tablet
Advanced features adjust the temperature in each defined space and not by a thermostat in a separate room
12-year Limited Compressor and Part Warranty
Mini-Split Systems Are Ideal For:
Older homes with no central air or ductwork
Add-on rooms, sunrooms, and outbuildings
Converted spaces that are now used for home offices, virtual learning, gyms, etc.
Rooms that are not regularly used
Areas adjacent to unconditioned spaces
---
Are Mini-Splits a Good Solution for Your Home?
If you are wondering if a mini-split or zoned system might be a good fit for your home comfort needs, complete the form below. We will help you evaluate and explain all your options including rebates and available financing options.