Ease Your Winter Heating Costs with our Bundle Up Program
Need to make your heating oil or propane delivery costs more manageable this winter?
Our Bundle Up Program is an effective way to manage your heating costs into more manageable monthly payments. This program offers qualified heating oil and propane delivery customers the ability to spread their fuel costs to 12 equal and easy monthly payments. We will even bundle in your annual service contracts for heating and central A/C systems to ensure your system is covered and you are protected 24/7.
There is NO enrollment fee to participate in our program! Not only will you be able to better manage your monthly budget; but you also enjoy the benefits of being an automatic delivery customer. No more having to monitor your tank gauge to know when you need to request your next delivery. Let our technology monitor your fuel usage and average temperatures to schedule your next delivery before you run out.
Our team will review your account on a quarterly basis. This saves you the concern of having an unexpected large balance due or credit available at the end of the yearly plan.
In addition to accruing Loyalty Points for every gallon of fuel delivered, you will receive an additional 20 Loyalty Points a month for being an automatic delivery customer and enrolled in our Bundle Up Programs. Earn even more Loyalty Points for enrolling in automatic pay and eStatements (paperless billing) options.
Enrolling in the Bundle Up Program is easy through our Online Portal!
Follow the simple instructions below:
Login into your Portal account at https://myportal.rhoadsenergy.com
Under the Plan Enrollment menu, select Budget Calculator
On this page, you will see a graph that shows what you paid over the past year for fuel and service contracts. Your estimated monthly budget amount is listed above the graph. This amount is based on your annual fuel usage and any existing service contracts. If you would like to add a new service contract, please contact us to add it to your account before enrolling the Bundle Up Program.
Press the green enroll button on the bottom left of the chart. Continue the enrollment process to finalize your participation in our Bundle Up Program.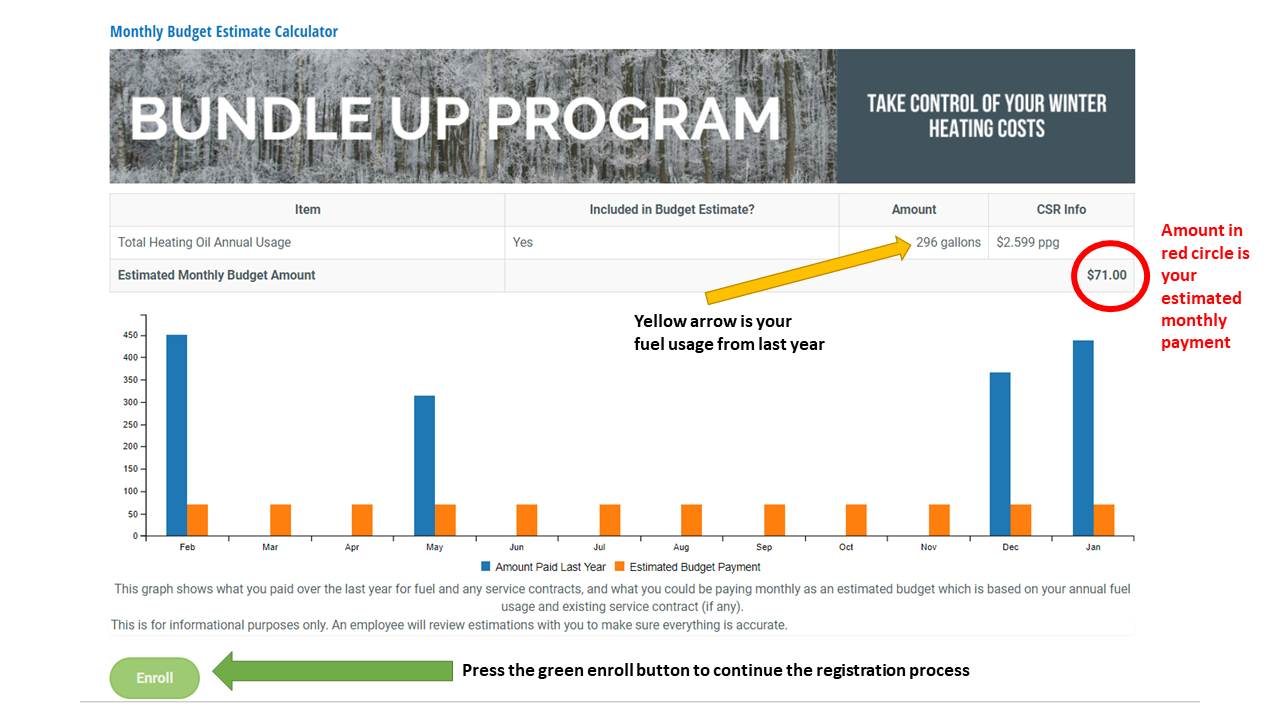 If you have any questions or would like more information, please email our team at portal@rhoadsenergy.com.