Six Ways to Expand your Backyard with Propane
Homeowners are spending more time in their backyards this summer and many are looking for ways to expand their outdoor living options. From small items like grills and fire pits to patio heaters and outdoor kitchens, propane offers the flexibility to expand your backyard. Here are six ways to enhance your backyard with propane-powered items.
Fire Pits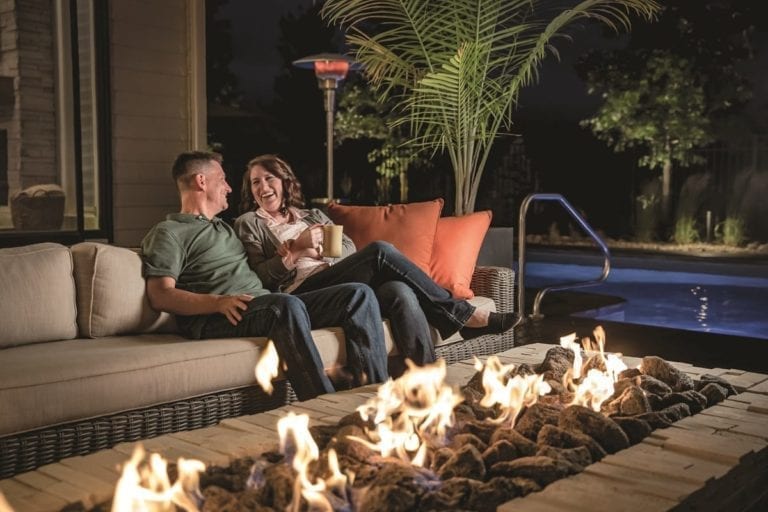 Did you know fire pits are the number one requested outdoor design element? When summer evenings turn cooler, a backyard firepit is the perfect place to spend time with family and friends. If you're thinking about adding one to
your backyard, consider a propane-powered fire pit. They're simple to use, follow today's design trends and are better for the environment and your health. Plus, with a flip of a switch, you can have a fire ready in no time to make smores.
Pool and Spa Heaters

If you have invested in an above or in-ground swimming pool, odds are you're looking for ways to make the summer swimming season last as long as possible. Today's options for pool heaters are more readily available and cost less than a few years ago. Compared to other energy sources, propane pool heaters quickly bring water temperatures up to the desired temperature – up to four times faster than electric models. We partner with several local pool companies to keep you swimming well into the fall.
Patio Heaters
A chill in the air shouldn't stop you and your family from enjoying an evening outdoors. Propane patio heaters can raise the outdoor air temperature up to 25 degrees Fahrenheit and emit a circle of heat up to 25 feet in diameter – enough to warm up a small patio or deck with the flip of a switch. With permanent or portable options, patio heaters come in a variety of shapes and styles to match your outdoor décor and complement your home's exterior.
Grills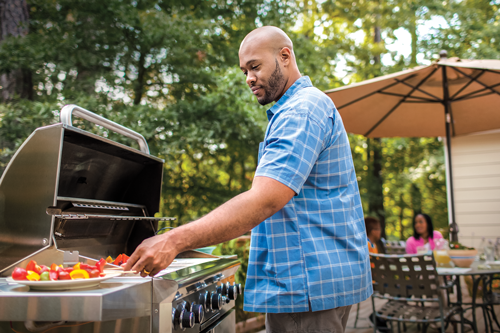 No cookout or picnic is complete without a propane grill! Homeowners enjoy the instant on-off convenience and precision temperature for a perfectly cooked meal. Plus, there are no coals, soot or ash to clean up when using a propane grill. Propane grills come in a variety of sizes and styles with additional features like side burners, rotisserie and more. If you're looking to cook a variety of foods at different temperatures, a grill with six burners is your best option. Be sure to have a dedicated propane line run to your grill and you'll no longer need to worry about running out of propane in the middle of cooking your meal.
Outdoor Kitchens
Looking for something more than just a propane grill? Consider an outdoor kitchen – homeowners can select options from a luxury grill, stand-alone cook top, pizza ovens and more. Adding an outdoor kitchen to your backyard extends your living space and can also increase the value of your property. Most homeowners prefer propane for their outdoor kitchens because of the fast heat-up times and quick clean-up.
Flame Lighting
Add charm and romance to your outdoor living space with the glow of real flame lightning powered by propane. Flame lighting is available in wall, pillar or in-ground mounts. This allows for installation options on your property to help illuminate your backyard. They are totally odorless and will function even during a power outage for added security and safety.
If you're ready to transform your backyard with propane, let us help. We partner with other local companies to help bring your dreams to a reality and help make your backyard the envy of your neighborhood. Contact us today!